New Zealand is spoilt for choice when it comes to gin. These are our 10 picks for delicious gins made here in Aotearoa.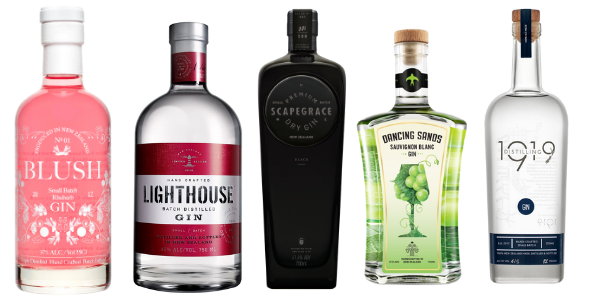 1. Blush Small Batch Rhubarb Gin: The colour and flavour of rhubarb shine through in this sweet, smooth gin, made in New Zealand by a team of just two: Elliot McClymont and Chris Thomas. It's rich and mellow, and you can feel the warmth and purity of slow, unhurried distillation. The tang of rhubarb and citrus provides a burst of flavour as it lands on the palate.
2. Lighthouse Batch Distilled Gin: Inspired by the spectacular Cape Palliser lighthouse on the southernmost tip of the North Island, Lighthouse Batch Distilled Gin is handcrafted and batch-distilled in the Wairarapa. This smooth, fresh gin, made with nine botanicals, has magnificent herbal and citrus characteristics and makes a fantastic vanilla-citrus cocktail base.
3. Scapegrace Black Gin: Unique in flavour and colour, Scapegrace Black is tropical yet earthy, giving it a luxurious twist. Crisp and floral, with balanced citrus and freshness and a hint of spice, this gin has a candied sweet potato and pineapple finish with a smooth, velvety mouthfeel. It turns a stunning purple colour when mixed: great for a dramatic cocktail or G&T.
4. Dancing Sands Sauvignon Blanc Gin: Gin meets sauvignon blanc in this remarkable gin. It's very much an 'only in New Zealand' idea, with a sauvignon blanc 'nose' and flavours of passion fruit, lime and green apple that give way to the gin notes of juniper berries and coriander seeds. A summer sensation.
5. 1919 Classic Gin: Named after the year our ancestors stood their ground and voted against prohibition, this gin is produced in South Auckland in a custom-made still. It's created using Otago cherries, mānuka honey, organic lemons and oranges, plus botanicals including juniper, angelica root and cinnamon. A taste of old-world Kiwi charm.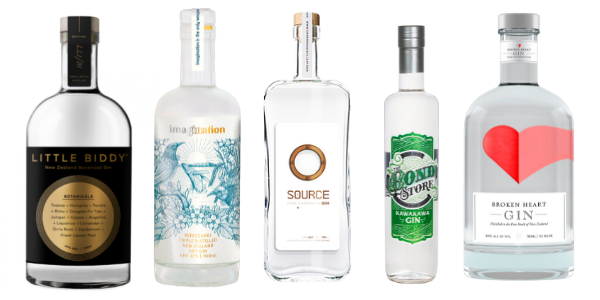 6. Little Biddy Classic Gin: Created in honour of Reefton legend Little Biddy – a pipe-smoking, gin-loving, four-foot-tall gold prospector – this robust, hardworking gin is awash in native botanicals and has a strong aromatic bite. Blending natives such as toatoa, tarata, horopito and rimu with Douglas fir, this versatile, easy-drinking gin has a complex palate of spiced citrus and warm resin.
7. Imagination Distilling Reikorangi Triple Distilled Gin: This triple-distilled dry gin is created at the site of the original Tuatara Brewery on the Kāpiti Coast. It's triple-distilled with pure Kāpiti Coast rainwater and standard gin botanicals – juniper, coriander, cinnamon, liquorice root, orris root, orange, lemon and lime. The gin's earthy body is enhanced with a hint of mānuka oil and a touch more liquorice and orris than usual, leaving you with a sweet, spicy finish.
8. The Source Pure Cardrona Gin: Named one of the world's top 50 gins in 2016, The Source from Wānaka's Cardrona Distillery is a drinks-cabinet essential. Locally foraged botanicals and rosehips are handcrafted to make the award-winning blend, which has lots of piney fresh notes from juniper, a backbone of floral rose and a fragrant citrus-zest zing.
9. The Bond Store Kawakawa Gin: This gin is handcrafted on the Kāpiti Coast using local sustainable ingredients, including handpicked kawakawa, filtered water from the Tararua Ranges, and repurposed whey-based alcohol from pure, grass-fed New Zealand dairy in Reporoa. Unmistakeably Kiwi.
10. Broken Heart Original Gin: Broken Heart Original Gin is born from the memory of a precious life lost. Germans Bernd and Joerg met in Queenstown and forged a firm friendship over a love of fine spirits and home distilling. Both master distillers lived in the Southern Alps, creating a superb gin – an intricate balance of 11 botanicals with a surprising orange twist. When Bernd fell ill and died, Joerg named the gin Broken Heart and shared it with the world.