Its name is an exquisite mouthful – and so is the wine. Grenache Shiraz Mourvèdre may be hard to pronounce but it's easy to love, as you'll discover with our simple guide to this flavourful red wine…
Grenache Shiraz Mourvèdre, it's hardly a name that rolls easily off the tongue and if you're anything like us you like to save your mouth for sipping wine, so from here on in we'll refer to this flavourful red varietal as GSM.
WHAT IS IT?
Made by blending several varieties of grape – you guessed it, grenache, shiraz and mourvèdre – this style originated in the Rhône region of Southern France (most famous examples come from Chateauneuf-du-Pape), but more recently it has found a natural home in South Australia, more particularly in the Barossa Valley where these wines thrive in the local conditions. Here, ancient red friable clay soils combine with a warm and dry climate to create a unique environment for vines to develop fruit that has a vibrancy and depth of flavour like nowhere else on earth. The region is known for producing some of the best shiraz in the world and is fast gaining a reputation for exceptional GSM too.

WHAT DOES IT TASTE LIKE?
Each of the grape varietals used to make GSM has been chosen to bring its own characters to the wine:
Grenache for its light nature, flavours and aromas of sweet fruits and touch of spice
Shiraz to give dark fruit, spice and savoury characters, particularly in the mid-palate
Mourvèdre, a full-bodied wine originally from Spain, brings rich fruit, spice and smoke flavours, and adds romantic floral aromas of rose and violet

WINE TO TRY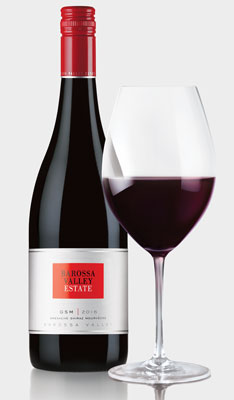 Barossa Valley Estate GSM has flavours and aromas of fragrant violet with a burst of red berry fruits and a soft, lingering, velvety texture. The current 2016 vintage blend is made with 39% Grenache – to give the wine fragrance and earthy notes, 37% Shiraz – for black fruit intensity and seductive texture, and 24% Mourvèdre – for intense red berry fruits and subtle herb characters.
The wine is aged for 12 months in French oak barrels to give further complexity of flavour and aroma. It's little surprise that Barossa Valley Estate GSM was recently awarded 90 points by Wine Spectator.

FOOD MATCH SUGGESTION
GSM wines pair nicely with charred meats, game such as duck and venison, mushrooms and hard cheeses.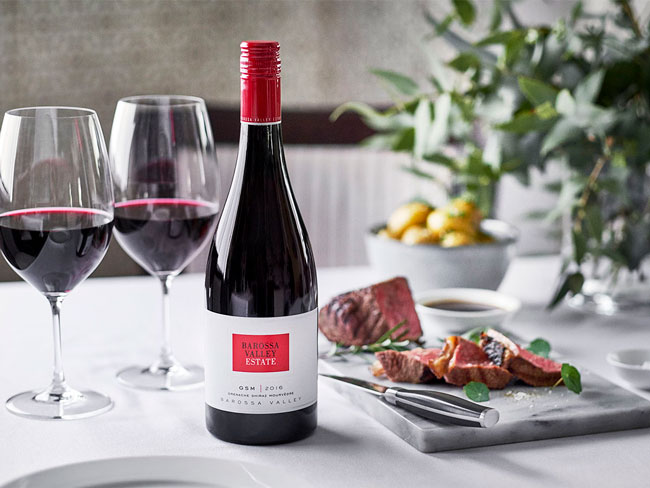 The Barossa Valley Estate GSM pairs perfectly with winter comfort foods such as succulent braised venison with parsnip puree, slow braised lamb ragu, seared steak with creamy peppered mushroom sauce and spiced pumpkin pie for those with a sweet-tooth. If you're wanting to design your own food match, pair this wine with steak, charcuterie, duck, turkey, mushroom, truffle, semi-hard cheeses, goat cheeses, and cured meats.