Gisborne is one of the first places on earth to see the sunrise, and Matawhero winery has grapes ready and waiting for those virgin rays
Heritage is extremely important to us," says Kirsten Searle, one half of the husband-and-wife team behind Matawhero winery in Gisborne. "When we bought Matawhero in 2008 it was incredibly important to us to carry on the history of the winery and ensure we stayed true to the pioneering spirit that it was known and loved for."
Matawhero is one of the oldest wineries in Aotearoa, established in the 1960s by Bill Irwin, the father of modern New Zealand viticulture.
A Gisborne man born and bred, he bought land at Riverpoint Road in 1968 – and became an instant laughing stock. A bookseller with no growing experience, Bill soon turned people's opinions on their heads when he began supplying wineries with contract grapes. Matawhero clones were bought by almost everyone in the industry, becoming the foundation for viticulture nationwide.
By the mid-70s, Matawhero was producing wines under its own label, winning gold for its gewürztraminer at the New Zealand National Wine Competition in 1978. It was soon garnering awards internationally too, and Matawhero became a well-known boutique brand.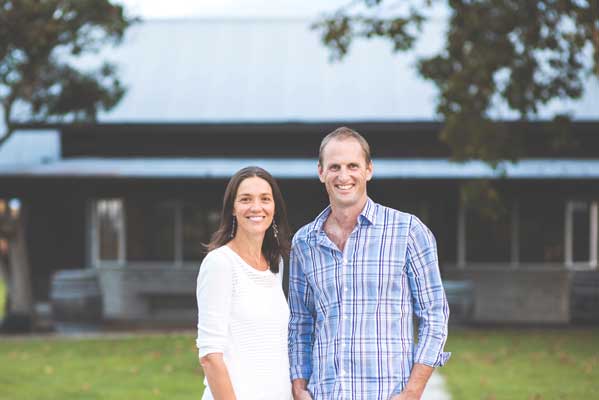 Kirsten and husband Richard are very proud of Matawhero's history.
"It's our home and we love it! The history also dictates the wine styles we produce and the varieties that perform well," says Kirsten. "I also think as custodian of the Matawhero new generation we owe it to the legacy we have been given to champion that history."
Kirsten and Richard have their own long history with the New Zealand wine industry. Friends with Kim Crawford, who is now their winemaker and business partner, they have both previously worked for other vineyards. When the couple moved to Gisborne in 2002 after some time abroad and in Auckland, they were able to start making a small amount of wine through a vineyard Richard had invested in years before.
"When Matawhero came on the market, we couldn't resist the opportunity to purchase and bring the historic winery and label back to life," says Kirsten. "It sounds simple, but the property needed a lot of work, the vines needed replacing and we had our three children, all at the same time!"
Both the history of the business and the land the grapes are grown on inform the wine Matawhero makes, says Kirsten. The warm Gisborne climate and fertile soil result in much more rounded fruit-driven styles with weight and texture. Due to the risk of late-season rain, they have invested in early-ripening varietals to ensure consistent quality each harvest. Matawhero also practises "dry farming".
"We are lucky enough to be able to grow our vines beautifully and in balance with only natural rainfall, so why would you use a precious resource if you don't need to?" says Kirsten.
"The ability to naturally dry farm means that our vines entrench themselves deeply and are exposed to the true terroir of our land, allowing us to make distinctive fruit-driven wines with weight and intensity."
The sense of place probably shines through the most in Matawhero's experimentation with different varietals over the years, such as chenin blanc, albariño, arneis and grüner veltliner.
"We have won numerous gold medals and trophies for these varietals, which
is testament to the region's ability to grow exceptional aromatic wines with weight," says Kirsten. "In February, we were awarded a Gold Medal at the Royal Easter Wine Show for the 2018 chenin blanc."
The mix of heritage and innovation has proved to be a winning formula for
Kirsten and Richard, and the source of Matawhero's strength.
"We feel proud of the heritage and want to build on that, for us but also for our region," Kirsten reflects.
"Not many New Zealand wineries have been around for nearly 50 years."