Yo ho ho and a bottle of Stolen: Olivia Atkinson meets one of the ambitious Kiwis behind the unstoppable local rum brand
During the recession of 2008 and after five years as a high-flying lawyer in London, Jamie Duff decided it was time to steal his life back.
Inspired by the rum-smuggling antics of the 1920s prohibition era, Jamie and co-founder Roger Holmes set off on a rebellious venture of their own: Stolen Rum. The pair became modern day rum-runners, driven by the shared goal of producing premium rum "blended to meet the palate of the contemporary wrongdoer."
"Rum had always captured my imagination," Jamie explains. "It's the best tasting spirit and the history was so lawless and interesting."
Jamie and Roger kicked off their Stolen story in a one-bedroom flat in Auckland's Mt Eden. There, they attempted to make an innovative blend that they hoped would spark a rum revival in New Zealand. However, without a constant source of key elements – cane sugar, bourbon barrels and climate – these early rums were nothing to rave about.
Prior to this, in 2006, the lads had embarked on an historical journey of sorts, tracing the footsteps of Roger's great-great grandfather, master mariner and shark hunter, Captain Christopher Welch. The captain had once shared the same seas as prohibition bootleggers and had unknowingly carved a path of discovery for the budding rum makers.
The trip took them from New York to Miami and on to the Caribbean, where they were given the chance to sample rare vintage rums. A rum dating back to 1923, during prohibition, was a firm standout and became a benchmark for flavour profile and depth.
"The rum we tasted there was by far the best in the world," says Jamie. "We realised we needed to go to the Caribbean to get our rum."
During a second trip, Jamie and Roger stumbled upon a world-class distillery in Trinidad and Tobago. They put their creative DIY ethos to work, using 100 per cent natural oils and tinctures, sourced from various corners of the world.
The Blend's Beginnings
Working alongside the distillery's master blender they were schooled in the art of extracting flavours and eventually started blending rum back home in New Zealand.
"The rums in Trinidad and Tobago had a minerality and inclusiveness to them, which is what we wanted," Jamie explains. "We felt the Kiwi palate was attuned to this type of rum; a rum that was not too 'rummy'."
Once Jamie and Roger had mastered the blends of what would become their STOLEN Gold and White rums, they took to the streets with a briefcase of bottles and worked their marketing magic on bar managers in Auckland.
"It was harrowing and exciting. Painful, but the beginnings of something," Jamie reflects.
This edgy, vivacious approach to selling gave the Stolen duo a distinct point of difference. They later joined forces with drinks giant Beam Global (now Beam Suntory) in 2011, took on a sales team and started brainstorming other ways to get their brand noticed.
A range of guerrilla marketing strategies ensued. They wrote to Bacardi stating that consumers prefer Stolen (61% vs. 39%) and used human 'mules' to smuggle their STOLEN SX9 Premium Overproof White Rum into Australia.
"Our brand concept is shown through the irreverence of our behaviour as a collective – doing things without asking permission," says Jamie.
Jamie and Roger had broken free from the shackles of corporate life and built an empire from their new unrestricted boundaries. The next couple of years saw the brand boom in New Zealand, Australia and later, the United States. STOLEN Dark, an oak-aged rum with caramel aromas and soft honeyed texture, was released in 2012 and snapped up a gold medal at the San Francisco World Spirits Competition 2013. They then delivered the world's first smoke rum: STOLEN Spiced.
"There is a movie named Coffee and Cigarettes, directed by Jim Jarmusch; an art-house series of films stitched together into one. It is dialogue-driven and built around creative and interesting conversations that occur when one is partaking in smoking a cigarette and drinking coffee," says Jamie.
The coffee, smoke and butterscotch aromas are best experienced in a classic 'Smoke & Cola' or with ginger beer.
Sailing On
Jamie's favourite drink, however, is something slightly different.
"I drink a lot of gin in the form of Gin Martinis. I generally drink rum neat but my favourite rum cocktail is a Hemingway Daiquiri." Nowadays, Jamie can be found sipping these white rum, lime, grapefruit and maraschino concoctions in New York City, while listening to The Clash, Rolling Stones and Bryan Ferry – the unofficial Stolen soundtrack.
"I'm living here, at the coalface, managing the sales team and spending time with our distributor."
Stolen Rum started selling in the US with their distributor just two months ago but is already making waves in the Big Apple as well as LA and Miami.
Back in the motherland, the brand is starting to kick old-school 'pirates and palm tree' rums off the bar shelves.
"I think the perception of rum in New Zealand is still very much lowbrow, but I'd like to think the perception of Stolen is perhaps different from that."
As for the ambitious young men who started it all? It's safe to say that Jamie and Roger's career gamble has paid off. Case sales of Stolen Rum increased by 178 per cent in 2012 and the cheeky, inventive brand is showing no signs of slowing down.
"The main hurdle was really the mental hurdle of leaving a stable career and the opportunity cost: the 'what ifs'," says Jamie. "I'm happy, I haven't looked back and I don't have any regrets – that's not part of my philosophy of living."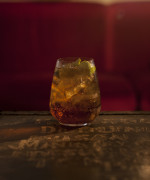 Stolen Dark and Dry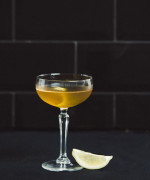 Stolen Winter Daiquiri