Gin favourite brand Bombay Sapphire is asking Kiwis to unleash their imagination from the comfort of their own home
This February, get your creative juices flowing courtesy of popular gin brand Bombay Sapphire!
The must-have experience of summer 2021, the Creativity Lab is a collection of online curated workshops from four local artists: Rosie Holt, Jess Mentis, Helen Emmett and Olivia Dobrowolski. Each Lab is curated to allow guests to showcase their talent, explore and experiment whilst sipping on their own cocktail creation. Bombay Sapphire's smooth gin provides the perfect canvas for cocktails as guests discover the possibilities within.
Crafted to provide a perfect pastime with family or friends, after purchasing a lab kit for their chosen experience, guests will receive supplies for two. These kits, developed between mixologists and the four local creators, contain all the required elements to engage in the chosen craft from the comfort of their own home, with each experience streamed for live participation. Guests will also utilise the ingredients included to create a bespoke Bombay Sapphire cocktail, inspired by each craft.
Immerse yourself in a Perfume Playground
Ignite your senses as perfumier Rosie Holt guides the group through the botanical landscape of scent-blending. Guests will learn how to smell and pair ingredients, while creating their own perfumed garnish. Cocktail inclusion: Scented & Sapphire.
Experience jellycraft with The Jellyologist
Tap into the mind of expert jelly artist Jess Mentis, as creativity and cocktails collide. Guests will get the opportunity to become a bona fide jelly architect as they create a gin-jelly creation and a Bombay Sapphire cocktail. Cocktail inclusion: Jelly & Juniper.
Create the spirit of the cocktail with Paintvine
Capture the spirit of a creative cocktail via the medium of watercolour and a masterclass with the experts in all things paint. Explore your creative expression on watercolour paper, along with a bespoke edible paint cocktail. Cocktail inclusion: Painted & Perfect.
Sculpt the perfect night in with Sunday Studio
Setting the scene for nights to come, participants will sculpt their own unique polymer clay candlestick holder with artist and designer Olivia Dobrowolski - then enjoy your Sherbet and Shaper cocktail by candlelight.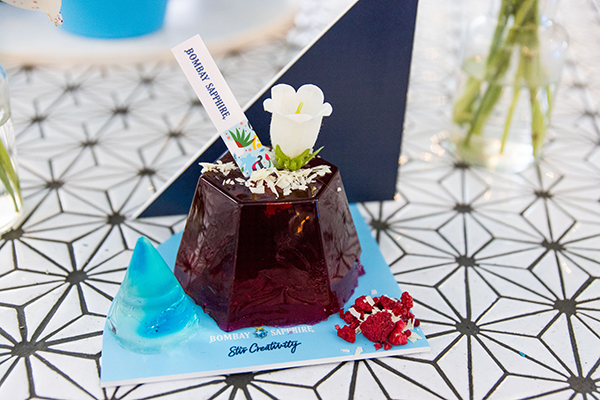 Fancy a night out? Bombay Sapphire Stir Creativity events are also happening in multiple bars across Auckland. Timetable and tickets are on sale now at www.thecreativitylab.co.nz.